Our bathhouses offer a rare oasis of calm in the busy, stressful lives we all lead today. A place to unplug and surrender your mind, body, and soul to complete relaxation.
Detox, soothe sore muscles, destress, and leave feeling refreshed and rejuvenated.
With hot and cold options, our bathhouses are the perfect place to reconnect with yourself and restore total wellbeing.
Enjoy our bathhouses together with a massage, scrub or facial for the ultimate indulgence or simply come and enjoy a pure bathhouse experience.
Either way, you will leave with your mind, body, and soul uplifted.
Traditional Finnish Sauna
Switch off, recalibrate and find your bliss in the warmth of our traditional Finnish saunas with the added benefits of Jade sauna rocks.
Traditional Finnish saunas can provide various benefits for your physical and mental health:
Reduce stress levels
Relax sore and tired muscles and improve joint movement
Boost cardiovascular health
Reduce inflammation
Increase metabolic rate, promoting weight-loss
Enhance brain function
Improve sleep
Leave your skin glowing
We recommend immediately following your sauna session with a cold shower or plunge in a cold spa or ice bath to have your body surging with dopamine and endorphins.

The traditional Finnish sauna is available at all three of our Sydney bathhouses (Balmain, Glebe, Newtown).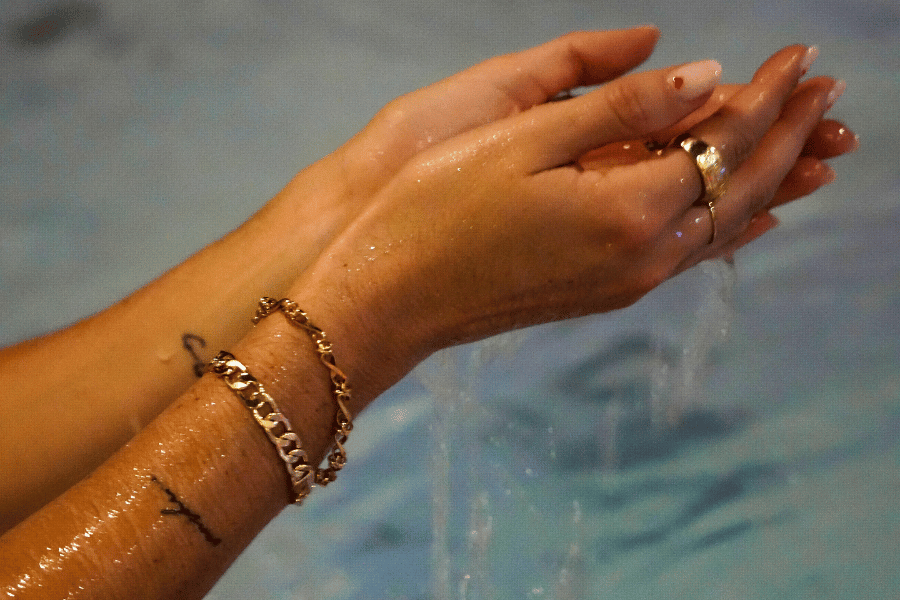 Humans have a very primal response to water. We experience water with all of our senses and simply being immersed in water triggers the parasympathetic nervous system, lowering our heart rate and blood pressure and enabling our bodies to relax.
Our bathhouses have hot and cold spas to offer a whole range of benefits:
Improve circulation
Reduce stress levels
Boost endorphins
Improve cardiovascular health
Lower blood pressure
Soothe sore and strained muscles
Deepen muscle penetration for any massages booked afterwards
Hot spas are heated to 38-40℃ and can be found at all three locations.
Glebe has an ice bath and Balmain has a cool spa.
Enjoy the gentle eucalyptus scent as our steam rooms invigorate your body and mind.

The benefits of using a steam room may include:
Improve circulation, reducing blood pressure
Cleanse the skin by opening pores and removing toxins trapped under the dermal layer
Reduce inflammation and support both injury and workout recovery
Reduce cortisol levels to provide stress relief and help boost mental health
Help induce a restful night's sleep and deep relaxation
Ensure greater absorption of products during facials and skin treatments
Burn calories
Steam room facilities are available at all of our three Sydney bathhouse locations (Glebe, Balmain, Newtown).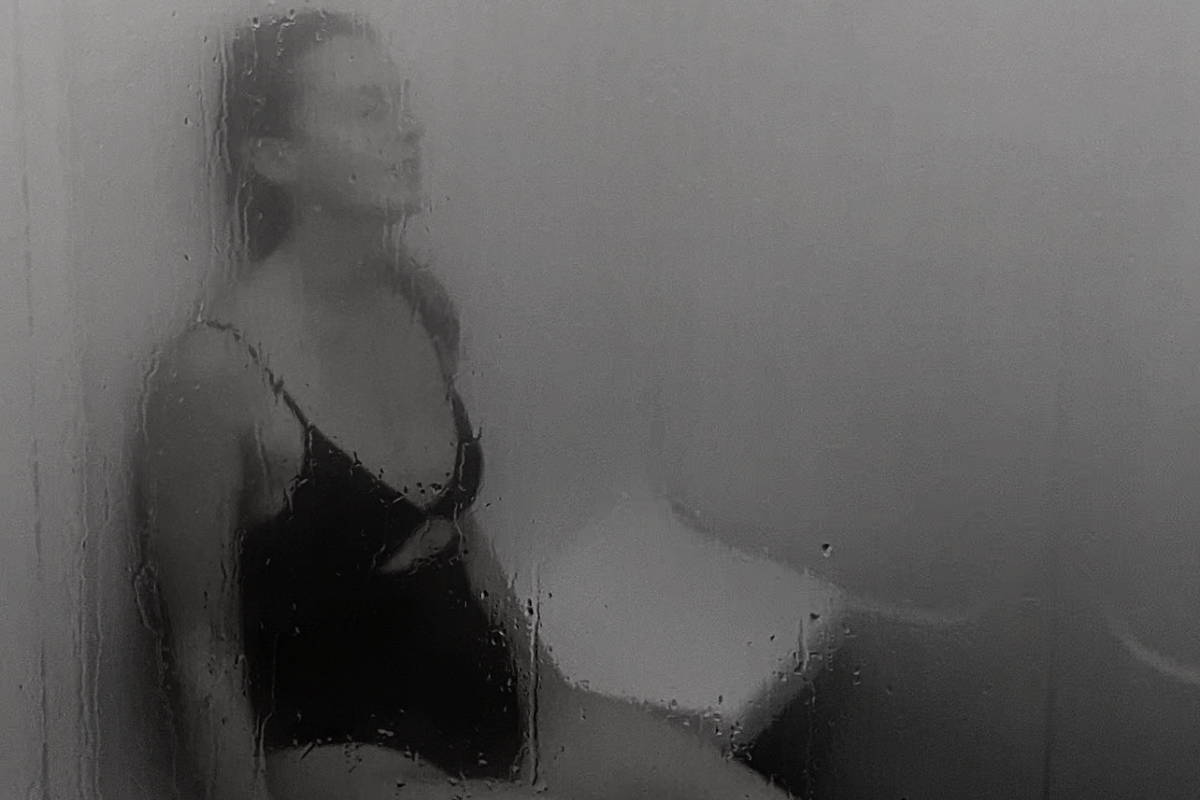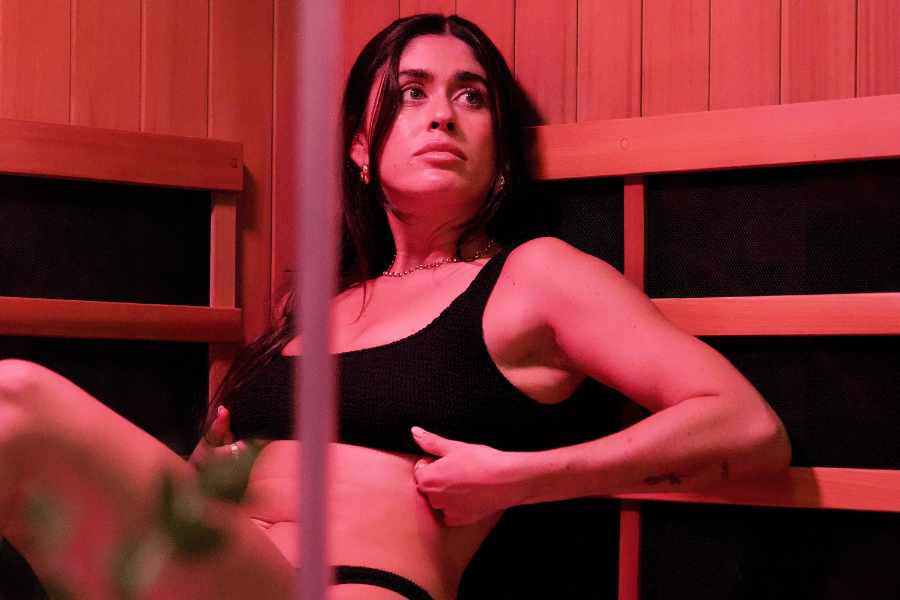 Visit our Glebe bathhouse to detox and destress in our new infrared sauna.
Unlike a traditional sauna that relies on heating the air, infrared sauna warms your body from the inside out.
An infrared sauna achieves the results of a traditional sauna but at lower temperatures, making them a great choice for those who find it difficult to stay in traditional saunas for extended periods of time.
Infrared saunas can help to:
Provide total relaxation of your body and mind

Improve cardiovascular health

Reduce inflammation

Rejuvenate skin cells

Support deeper sleep

Assist with pain relief
Infrared sauna currently only available in our Glebe Bathhouse.
Available Monday - Sunday
Single 60 min Bathhouse session

Full access to our sauna, steam room & spa facilities

Towel, robe & refreshments

Single 120 min Bathhouse session

Full access to our sauna, steam room & spa facilities

Towel, robe & refreshments
For regular Bathhouse clients, we recommend purchasing a series of 5 sessions.
Sessions can be booked 7 days a week, and can be redeemed across all locations.
Bathhouse series purchases are valid for 12 months from date of purchase and cannot be shared with other guests.
$250 - 5 x 60 mins ($50 per hour)
SAVE $50

$350 - 5 x 120 mins ($70 per 2 hours)
SAVE $100

Full access to our sauna, steam room & spa facilities

Towel, robe & refreshments

Sessions are valid for 12 months

Full access to our sauna, steam room & spa facilities

Towel, robe & refreshments

Sessions are valid for 12 months
Our Glebe Day Spa in Sydney also offers a range of traditional and holistic beauty and massage services, as well as healings, readings and acupuncture. Our state-of-the-art bathhouse facilities include an infrared sauna, hot spa, two saunas, steam room and ice bath.
In the heart of King Street, our Newtown bathhouse is known for its array of crystals and gemstone jewellery. Healings and readings as well as massage and acupuncture services are all available here. Our private bathhouse includes a hot spa, sauna and steam room – ideal for regular visits or a one-off indulgence.
Exclusive single-person bookings: Monday – Friday.
Shared space for up to three people: Saturday – Sunday.
Exclusive group bookings for up to four people: Monday – Sunday.
Visit our Balmain bathhouse on Darling Street to find your slice of heaven. With both hot and cold spas, sauna and steam room, it's the perfect communal space to relax and unwind.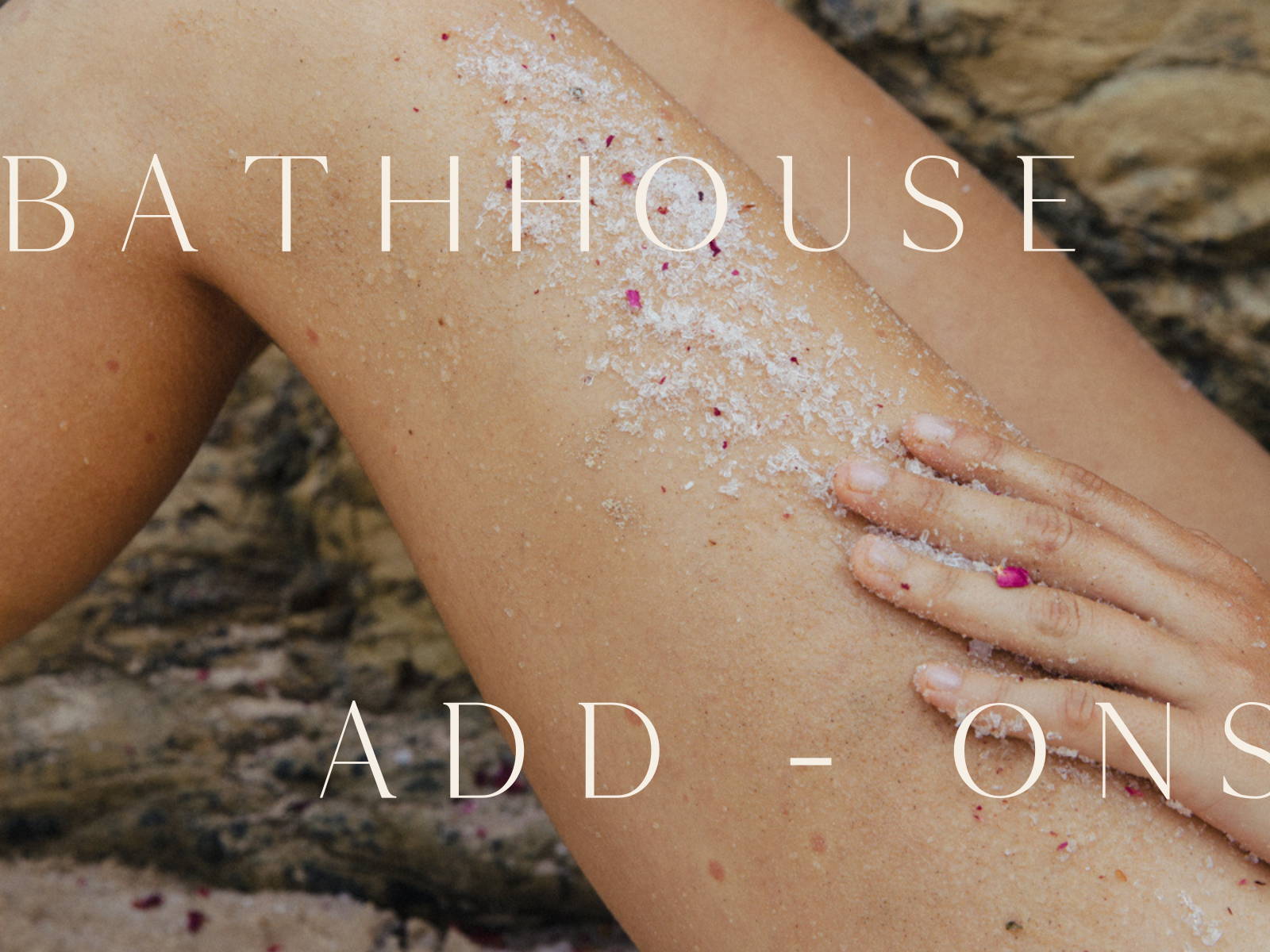 A specialty across all of our bathhouses, the Turkish Scrub is a full-body scrub using exfoliating gloves in combination with a seasonal-based body wash. Our Summer blend is created to uplift and invigorate, while Spring is a blend that will tone and detoxify. The Winter blend is designed to warm and soothe your senses, and the Autumn blend nourishes and protects.
Visit one of our bathhouses in Sydney to experience this invigorating full-body exfoliation alongside your 60 minute bathhouse treatment, with an optional skin-hydration treatment add-on.
Cost: $136 (Scrub + Bathhouse)
Duration:
60min - Bath House Experience
30min - Turkish Scrub
Do you have private facilities at your Sydney bathhouses?
All of our bathhouses in Sydney are shared spaces, where multiple visitors can book at any time.
Our Newtown bathhouse is available for single-person bookings Monday to Friday, however Saturday and Sunday is a shared space and allows for up to three single-person bookings. It is also available for exclusive group bookings of up to four guests every day of the week.
We have Male and Female changerooms for bathhouse guests as well.
What do I wear in the bathhouse?
Our bathhouses are an inclusive space. Please bring your own swimwear which is to be worn at all times.
I am pregnant. Can I use the bathhouse?
Due to safety protocols, we do not allow pregnant women to use the bathhouses at any stage of pregnancy, under any circumstances. However, you can still book treatments at our facilities, including pregnancy massages.
How old do I have to be to use the bathhouse?
Clients must be at least 18 years old to visit any of our bathhouses in Sydney.
Is it safe to use the bathhouse if I have heart disease?
Although sauna bathing is generally considered safe for most people, you should always check with your healthcare practitioner to ensure a visit to one of our bathhouses is safe for your individual circumstances.
Can I take my phone or smart watch in the sauna or steam room?
We recommend using our bathhouses as a digital detox. It's a great reason to switch off your devices for maximum relaxation. We provide lockers for you to store your valuables while you use the bathhouse's facilities.
It is also recommended to NOT take any devices into a spa, sauna, steam room or bath, for safety reasons.
Please note: We are not responsible for damage incurred by using any devices in our bathhouses.
What should I bring to the bathhouse?
We kindly ask that you bring along your swimwear, a pair of non-slip footwear (slippers/thongs/slides), a bottle of water to stay hydrated and your ID (to exchange for the bathhouse locker key) when you visit one of our bathhouses in Sydney.
Our change rooms and bathrooms supply shampoo, conditioner and hair dryer. Complimentary herbal tea and water is available at all of our bathhouse locations.