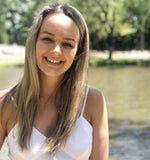 Emily is a degree qualified naturopath, who emphasises a holistic approach to health and wellness. Emily believes that optimal wellness comes from nurturing all the aspects of your health - the physical, emotional, mental and spiritual, and an imbalance in one of these areas can cause imbalance in the others. She aims to find the root cause of a condition or imbalance, rather than simply treating the symptoms. 
Emily believes in evidence-based medicine and scientific research. She also strongly believes in the healing power of nature, and her approach combines scientific knowledge with traditional naturopathic practices.
Emily uses a range of healing modalities such as herbal medicine, nutritional supplementation and dietary support, flower essences and lifestyle changes to create a personalised treatment plan for you. 
Emily has a kind and empathetic nature and cares about ensuring that her clients feel supported and cared for. She has a special interest in plant-based diets, women's health, gut health and detoxification.
Emily completed her Bachelor of Health Science (Naturopathy) at Endeavour College of Natural Health and is a member of the National Herbalists Association of Australia (NHAA). 
Join the waiting list at Balmain now, contact: 02 9555 5533 for more information.