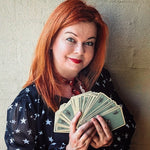 Alexis provides thirty years of experience conducting readings and healings.
Inspired by her Romani Gypsy grandparents, including ancestor Gypsy King, Petulengro. Alexis is psychic as well as clairvoyant, clairaudient, clairsentient and clairtangient.
Alexis has modalities in Tarot; Palmistry; Rune reading; Animal totems; Goddess guides; Angel Oracle as well as Crystal and Energy healing. Previously, teaching part-time tarot courses Sydney University, Alexis also has an extensive theatrical, artistic and social/ community background. Your reading will be a colourful adventure of the soul. Alongside your renowned and trusted Romani guide, issues explored can be anything from a relationship, career or life path. Have a little peek in what life might be offering you in the future while discovering your strengths for direction and personal empowerment.
Alexis has been a tarot educator for over 25 years and facilitates the Natures Energy comprehensive online Tarot Classes program.
---
Availability: Newtown - Alternate Saturdays & Sundays

---